Why Novelty Christmas Socks Are Our Favorite Festive Gift
9th Dec 2022
Christmas is a magical time. It's the Season of coming together with family and friends and showing loved ones you care about them by spending quality time together and exchanging gifts. But with the Holiday Season comes the dilemma of 'what do I get them for Christmas'?
Our new Christmas Socks range will solve all your gift-giving dilemmas and make smile even the family Christmas grinch.
Why are Christmas Socks the perfect stocking stuffer?
Everyone loves novelty socks. And we didn't skip the humour in our Christmas Sock collection. Each sock is made with premium soft threads and designed with the purpose of reflecting our Australian culture and holiday traditions. Plus, Summer Down Under gets extremely hot, so our Christmas Socks collection is made from predominantly natural materials that enable your feet to breathe and stay cool when wearing them.
More details about the Christmas Socks range
The men's range includes longer crew-length styles in a variety of colours, catering to your personality. Whoever you may be shopping for, we promise there's a pair of advent socks for them. Whether that's the Christmas Kangaroo Socks to give your visiting family a little taste of Australia, or if you're visiting home for the holidays, you'll feel like your feet are firmly on home soil when you take them back abroad. The women's Christmas Socks styles are made from the same material as the men's but differ in colour and are quarter crew length.
What prints are in the Christmas Socks collection?
Christmas Kangaroo Socks
The little bouncing kangaroos are the perfect match for your Aussie Summer Barbeque. This one is for all the major sock lovers out there and will pair perfectly with your black shorts and chinos and will really make a bold statement with a festive green shirt.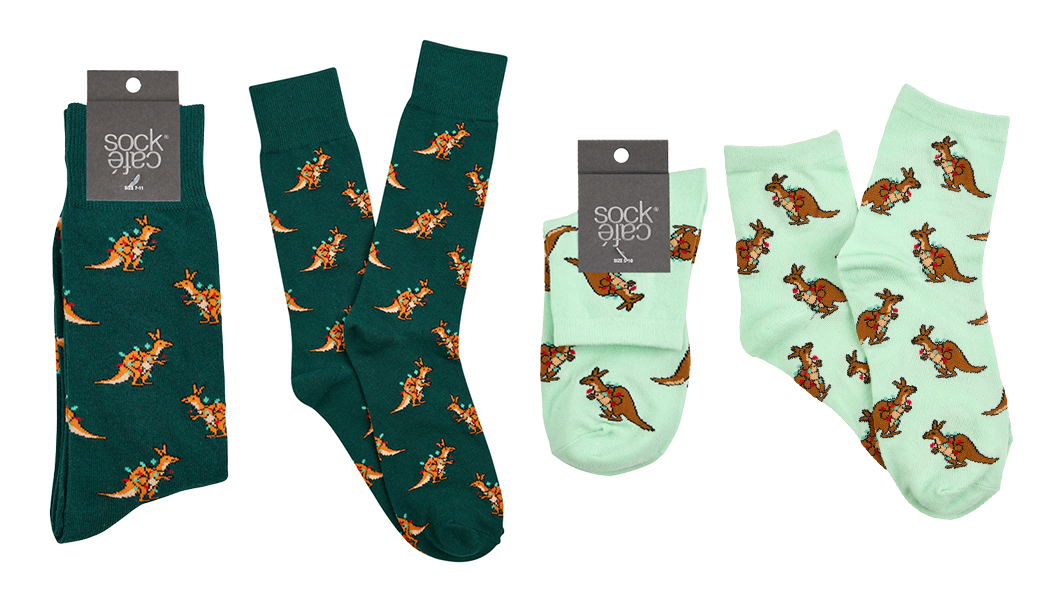 Shop men's here and women's here.
Christmas Dachshund Socks
The perfect addition to any sock cupboard is the Christmas Dachshund socks. Tell us you don't have a soft spot for these lovable four-legged friends. And did you notice how the sausage dog is dressed in a Christmas suit? Sausage Dog socks are always a good idea - and it's never too early to start getting stocking fillers ready.
Shop men's here and women's here.
Christmas Gingerbread Socks
They are so sweet you'll want to bite into them - the Gingerbread Man and Lady look so delicious they almost smell of Christmas. The quarter crew Gingerbread Lady print is on a soft baby pink background and pairs perfectly with all your white Christmas outfits. And the Christmas Gingerbread Men are on a navy backdrop in a crew-length style. You'll definitely stand out in these tasty socks.
Shop men's here and women's here.
Christmas Avocado Socks
Who said avo is best served on toast? We love avocados just as much printed on our socks. If you've got a soft spot for avocados (who doesn't?), grab a pair of our Christmas Avocado print socks and enjoy this Aussie favourite when running around to Christmas Brunch. Plus, they're so comfortable you can spend the entire Festive Season in them!
Christmas Turkey Socks
The Christmas Turkey is one of our most humorous prints. The festive socks will look absolutely adorable under a pair of chinos or with some Christmas shorts on Christmas Day. These crew socks can also serve as a great Thanksgiving gift idea - show your kind caring nature with a pair of Christmas Turkey-themed socks.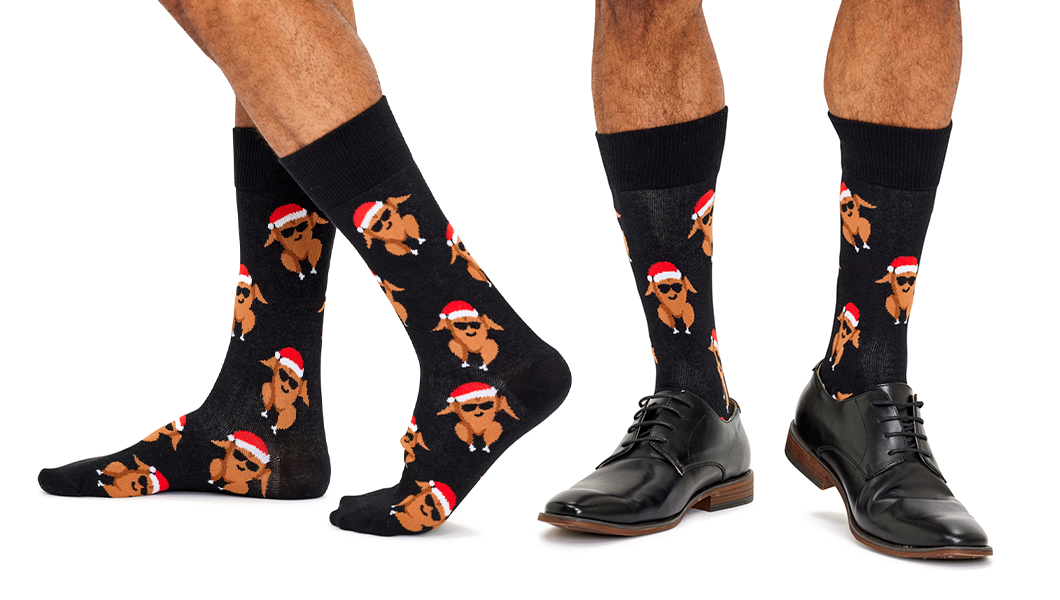 Christmas Tree Socks
Get completely behind the Christmas festivities with the Christmas Tree Socks. Coming in a soft grey colour with printed Christmas Trees on the socks, these are neutral enough to serve you beyond the Holiday Season, so you can wear them all year round. So for those mates who vouch they're not a fan of Christmas but secretly love it, the Christmas Tree design is the way to go.
Christmas Pineapple Socks
Nothing spells Aussie Summer like some freshly grilled pineapple. And now we bring you the Christmas Pineapple Socks - they'll be loved at any festive barbeque this December. You can wear them all day long and feel comfortable with a beer in one hand and a sausage in the other. Another tasty sock to add to your collection!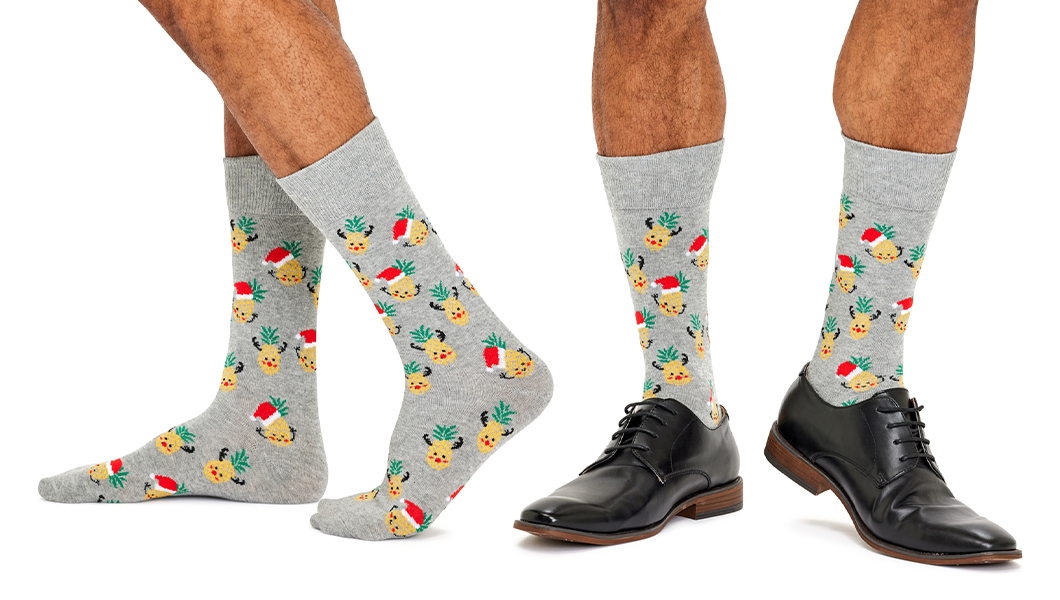 Now you've gotten to know our Christmas Sock range a little better - which Christmassy pattern do you love the most?
Tag us on Instagram @socks.com.au to let us know.