The Ultimate Guide To The Best Boot Socks In Australia
5th Jul 2022
Winter has officially arrived. And if there's one thing you need to stay warm and cozy when bracing the chilly temperature, it's proper winter clothing.
But picture this. You're warm from head to ankles, but your toes feel like icicles. As much as you try and ignore it - the feeling of cold feet won't go away. It happens to the best of us.
And often, we overlook the importance of a great pair of socks and what they can do for our feet.
A good quality sock, made from high-quality materials, specifically designed to keep feet warm and worn with winter boots, is hard to come by. So when you do - we suggest stocking up.
This guide is all the information you need to ensure the next pair of boot socks you invest in spends more time on your feet and less time in the drawer.
What to look for when shopping for socks to wear with your boots

Each boot is unique, and so should the socks you wear. Whether you're after a thinner merino wool pair to fit snug inside your Docs or a chunkier pair to put between you and your outdoor boots, a few common characteristics undeniably make one pair of socks stand out from another.
The material the socks are made from
What material the socks consist of makes up a massive part of the overall sock characteristics. A light wool pair will be soft, smooth, thin, and insulating, meaning it'll keep your feet cozy and warm. On the other hand, cotton is more light and might be the material of choice for slightly less chilly days. Be sure to check the material composition of your socks, as that will give you a good indication of what weather conditions they're most suited to.
Are the socks versatile?
Can you wear them with more than one shoe? Although there's nothing wrong with buying socks intended to be worn with specific shoes - we're not the first to admit that we want our socks to suit multiple kicks already in our wardrobe. Choosing socks in one particular colour or with a funky design means they'll match with the footwear you already own.
How comfortable the socks are
Let's be honest. Unless socks are comfortable and don't have any annoying seams that cause your pinkies to chafe, they won't be worn.
Gone are the days of shoving uncomfortable socks to the back of the drawer; our epic range of different socks is made to be worn. Again, and again and again!
Read to discover our favourite picks to kick off your boot sock collection.
Socks to wear under your everyday boots
You'll receive instant approval from your feet when pulling on a pair of bamboo socks. Why? Because bamboo is known to be very eco-friendly and moisture-wicking- meaning they help keep feet dry and breathing. The natural socks are also incredibly soft and feel luxurious on your feet. Plus, they have a shiny lustre that'll give your outfit a classy twist; the stretchy fabric keeps its shape for longer, so you don't need to worry about them slipping down your leg underneath your boots.
Coming in a range of fun colours like hot pink, emerald green, and a fashion-forward dazzling blue colour - it's all personal preference what shade you choose. If you're more in the classics, then the black and white 2 pack is a must-have.
Shop the classic black and white 2 pack here.
The optimal socks for hiking, outdoor and heavy winter boots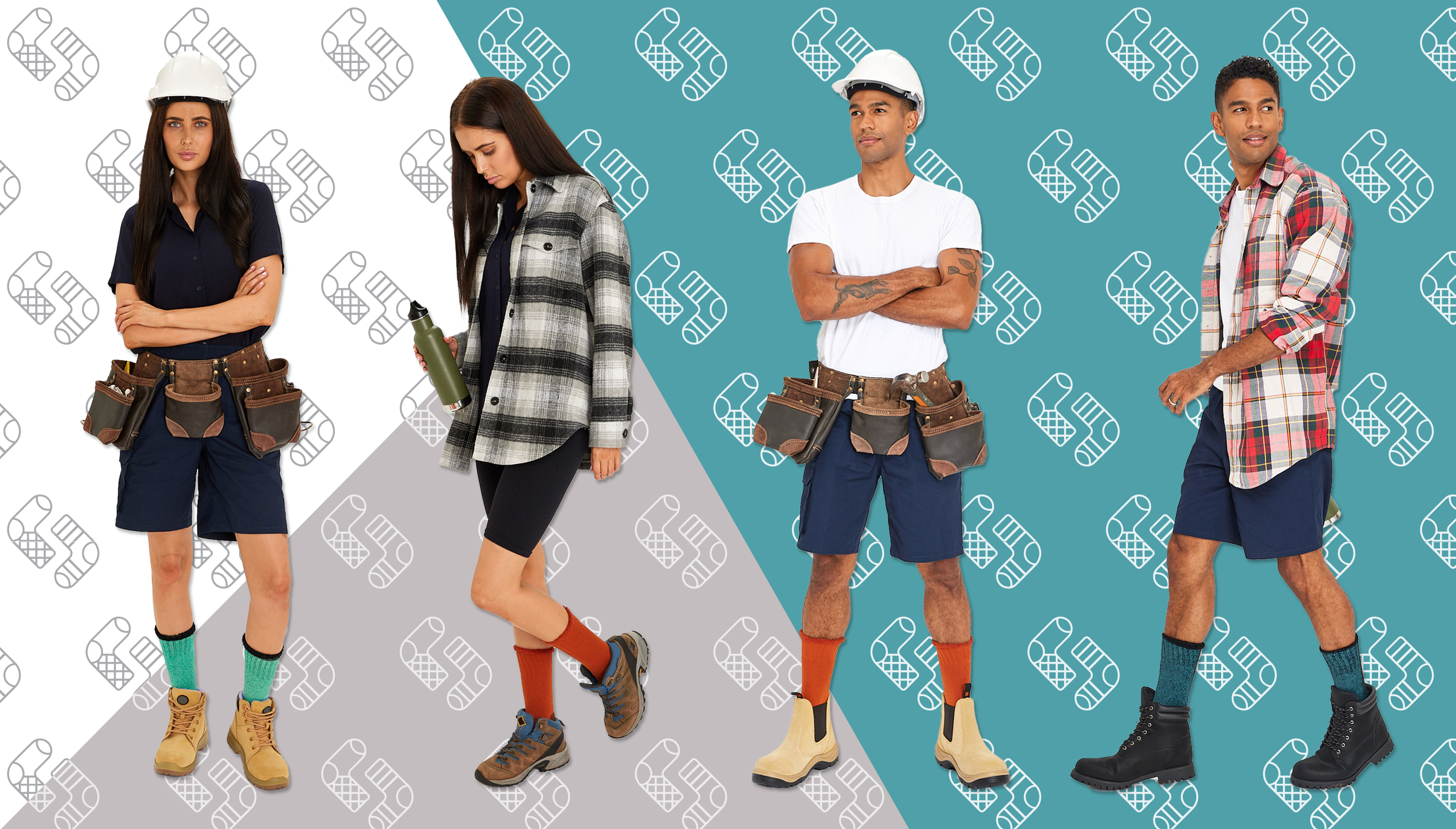 If you had to choose a pair of socks to wear with hiking boots - the JOAT Outdoor style would be it. Designed to follow you on outdoor adventures on the weekend, they come in several natural material options meaning that although thick, they're very breathable.
Our favourite cotton, wool, and bamboo styles feature a non-restrictive boot top and a smooth flat top seam that packs in a mirage of comfort when you need it the most. The wool style is very insulating and made from fine Australian Wool fibres, letting feet breathe while working up a sweat. The cotton style is the perfect all-rounder, and the thermal style will keep you extra warm.
All JOAT Outdoor socks come in a range of men's and women's styles and different colours.
Shop the JOAT Outdoor range here.
Socks that are made to glide into your Docs
Looking for a pair of socks that are just as comfortable to wear around the house as they are to run errands in? The Top to Toe Comfort sock would be it. Created to be so comfortable you'll forget you're wearing socks. The thick cotton material includes a reinforced heel and toe, and arch support provides extra cushioning.
The medium-rise and seamless toe also mean there won't be any annoying rubbing and a loose non-elastic top promotes healthy circulation. The classic space-dyed trio will become a much-loved addition to any sock cupboard. Plus, they come in a range of sizes and a convenient pack of three.
Shop the men's range here and the women's here.
The best socks to wear under a heeled or Chelsea boot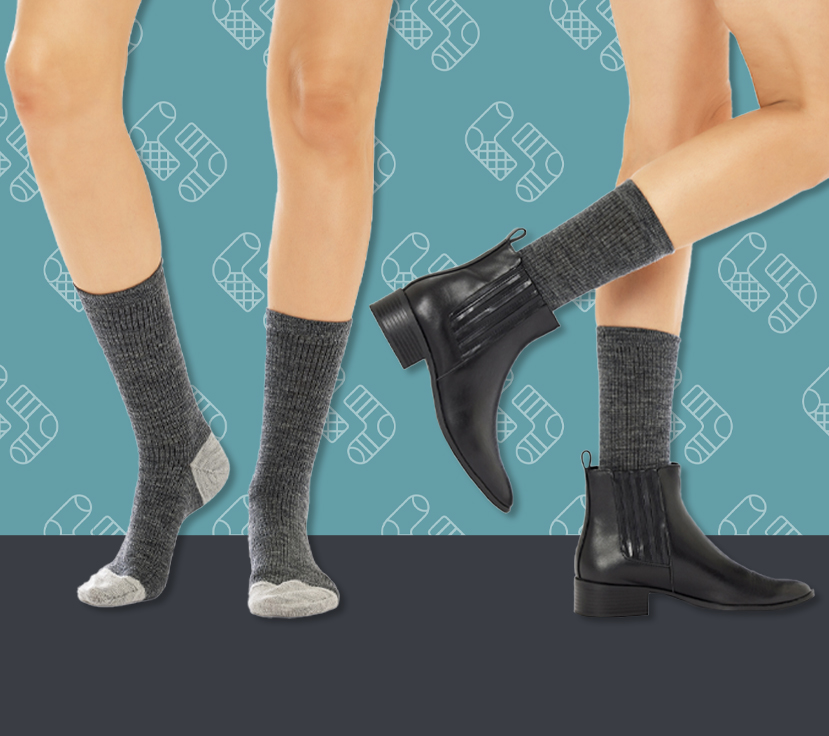 So soft and so smooth. Your feet will feel like they're getting a warm hug when encapsulated by the Merino Wool Crew Socks. The socks are made from over 80% merino wool, and the added polyester and elastane blend mean they're designed to last and won't stretch out in the wash.
The rib-knit crew length socks are perfect under a pair of boots, but they work just as well, peeking out from a cute pair of leather loafers or stylish sneakers. Coming in a wintery charcoal, we encourage you to stock up as these won't last long.
Shop the classic charcoal style here.
The ultra-comfortable socks to wear under gumboots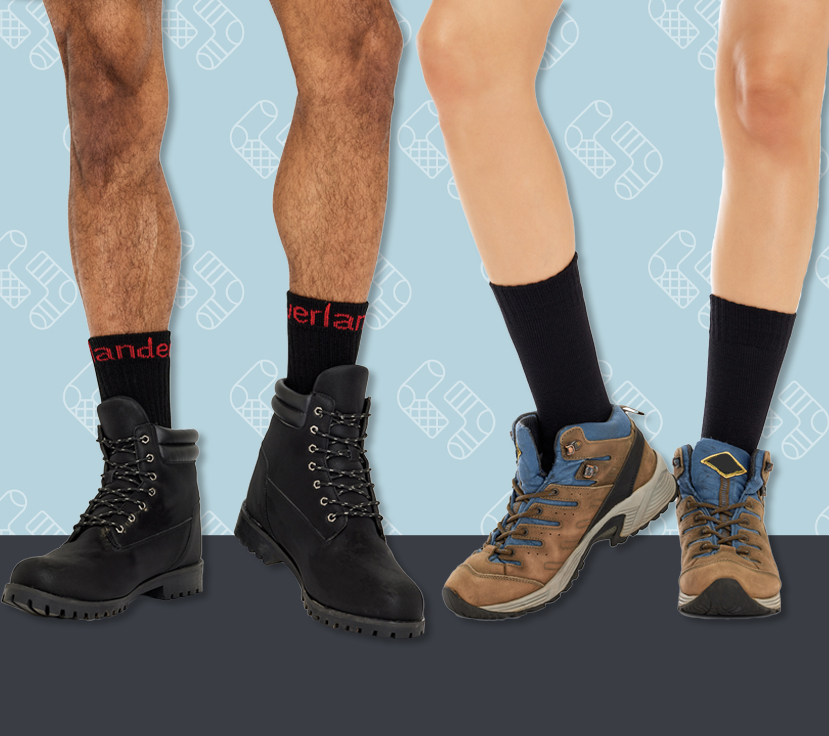 You can't go wrong with a sturdy pair of boot socks made from top-quality Australian Wool. A pair of tough socks that you can wear in the cooler months and then keep on your feet come the sun? Say hello to our Overlander Expedition socks.
Breathable, strong, stretchy, and very fast drying - these socks are ideal to spend the day exploring the outdoors. The outdoor wool socks are designed to let air circulate, helping to reduce sweaty feet and, (thanks to the nylon blend), withstand harsh conditions - like being walked on all day. Now that's a winning combo!
Since wool is naturally hypoallergenic and antibacterial the combination of the 100% wool inner layer and the nylon outer makes them an excellent choice for people with sensitive skin. Coming in both men's and women's styles, this is a sock you'll be wearing on repeat.
Shop the Expedition range now.
The perfect socks for sports boots and trainers
Just because it's winter doesn't mean that your sports boots won't get a good workout during the chilly season. However, the colder temperature and wet weather might mean you'll want your feet to be well protected. Our Action Sports socks have you covered.
Made using BCI (Better Cotton Initiative) cotton and coming in the popular crew and quarter length style - they'll keep your feet aerated and refreshed. The non-restrictive rib top and smooth flat top seam are super comfortable and made to move in. The shorter sock length is also great for wearing under boots that sit at the ankle.
Shop the men's ankle and quarter style and the women's crew and quarter style.

There's no better time to stock up on long-lasting and warm socks to wear under your winter boots.
And don't forget to tag #crazysocks4docs and follow us on Instagram.