The Best Super Tough Back-To-School Socks For Active Feet
11th Apr 2022
The school year is about to begin - and you have all the essentials ready to go. From stacks of notepads, pens, and uniforms to fit the growth spurt over the summer, but did you forget one key essential?
Socks!
The small but mighty socks go through so much wear-and-tear throughout the year that last term's socks are probably falling apart somewhere behind the washing machine. Used every day, they're an essential that need to tick a list of criteria - be comfortable to spend the entire day in, breathable so the growing feet inside them feel fresh and durable enough to withstand even the most intense four-square competition.
With so many options out there, here's what to look for when choosing socks that will last the entire school year:
Made from high-quality and breathable material
Choose socks mixed with natural fibres such as cotton and non-natural materials made from plastics. Typically disguised under the name of Lycra and Polyester, the two add stretch and durability. In contrast, cotton is a natural and breathable material that feels soft on the skin and lets the sweaty moisture pass out of the socks - allowing active feet to breathe during school.
Bearfoot socks use Invista Lycra, a premium quality material, which makes the socks stretchy and fit comfortably over the foot. The polyester we use (which is very durable) aids to help reduce the socks from stretching out and losing their original shape. So you can wash them again and again, and they'll stay the same for much longer! It also reduces the chances of those dreaded toe holes appearing that we know you loathe.
Socks that protect arches and support growing feet
It's essential to take care of kids growing feet. Ensure they stay healthy and reduce the chances of any health problems and foot pain with arch support. Like a tight hug for the foot, the light compression gently presses on the arch and reduces the risk of injury because the feet feel protected. The arch support can also help support flat feet.
Our Bearfoot socks are designed to withstand playground activities and after-school fun with additional nylon in the heel and toe for extra durability.
Feet are stinky, but Bearfoot socks use Silverplus Technology to help reduce the funky smell
When running around all day, it's normal for feet to get sweaty. That's why we use Silverplus technology in our socks. It's the magic solution to reducing the odour (and fungal infections) typically associated with sweaty feet. It works by stopping the spread of odour-causing bacteria, ensuring a fresher, more comfortable experience for both you and your child's feet - who doesn't love that?
Choose BCI Cotton that's better for the earth
We believe that fashion and sustainability go hand-in-hand and continuously evolve to incorporate sustainable materials into our products. The Bearfoot socks collection uses Better Cotton Initiative (BCI) cotton, meaning that the material we use helps cotton communities survive and thrive while protecting and restoring the environment. Good for nature, and good for feet? It's a win-win!
Our favourite back to school sock styles
All our back to school socks are perfect for running around the schoolyard. The two layers of cotton support flat feet and can help reduce the risk of injury. All Bearfoot socks are created with a high amount of cotton for comfort and breathability, mixed with polyester for strength and elastane for stretch. Thanks to the soft terry lined sole that adds cushioning, they feel incredibly comfortable. And don't forget - they all use Silverplus Technology to help reduce smelly feet.
The everyday Sports Quarter Crew sock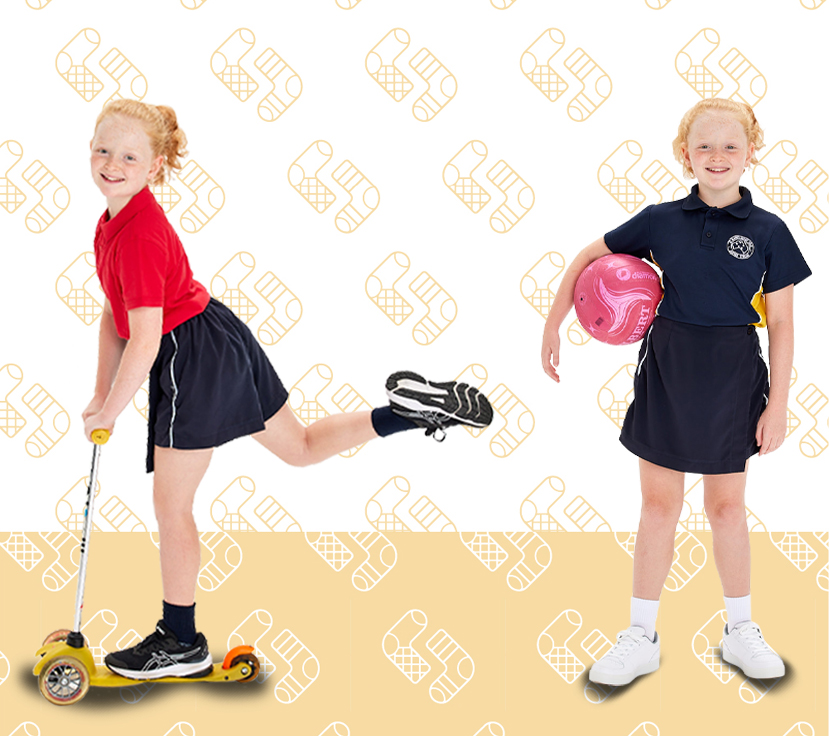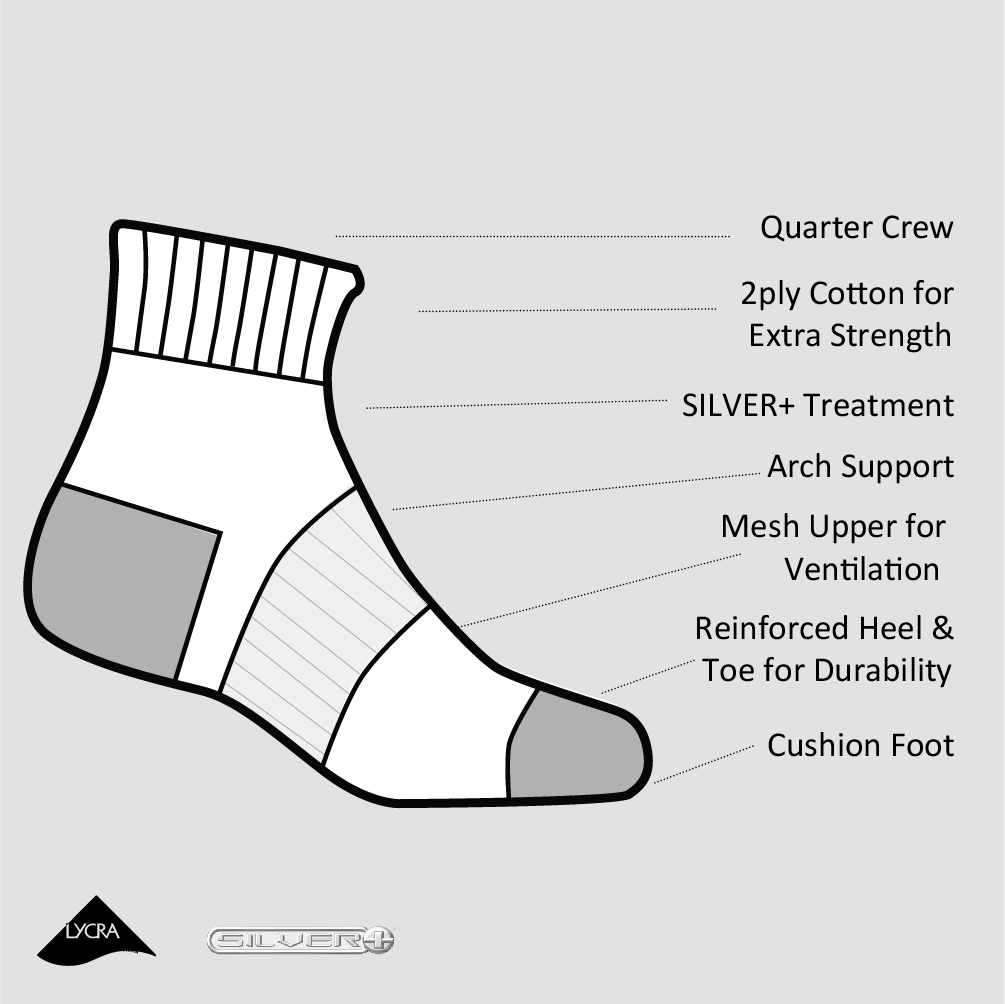 Kid's Tough Quarter Crew Cushion Foot Socks 3 Pack
A classic style that sits above the ankle and can be worn not just with school outfits. This is the perfect pair of socks to stock up on for weekend sporting activities, after school errands, and weekend trips to visit grandparents.
The Tough Turn Top Anklet that sits at the ankle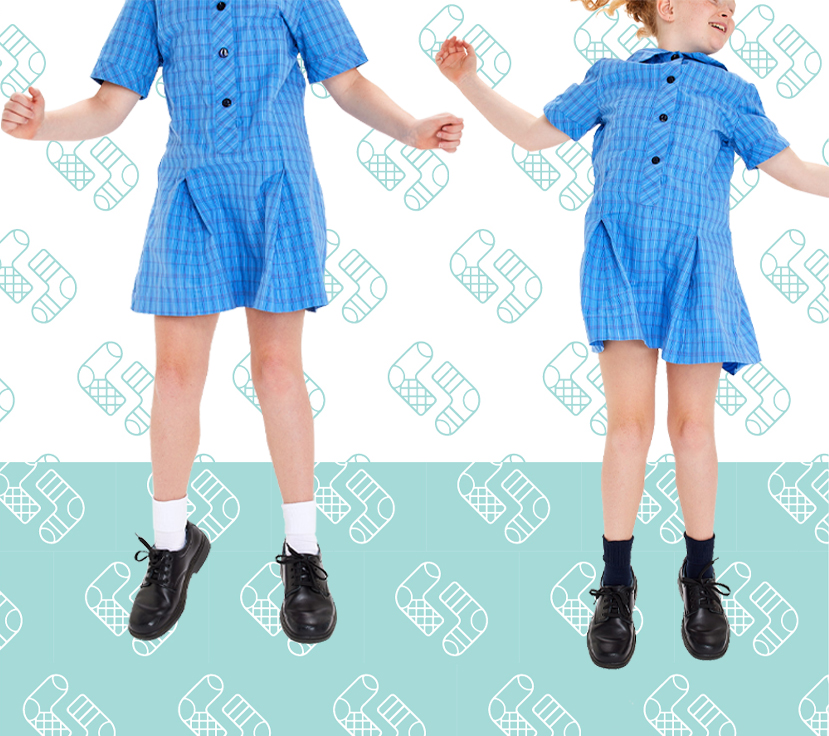 Kid's Tough School Anklets 3 Pack
A popular school style meant to sit above the ankle and features a ribbed cuff. Fold it up or down; we'll leave the styling decision in your hands. The socks are reinforced in the heel and toes for extra stability making them great for running around in all day.
The Traditional School Style that sits at the knee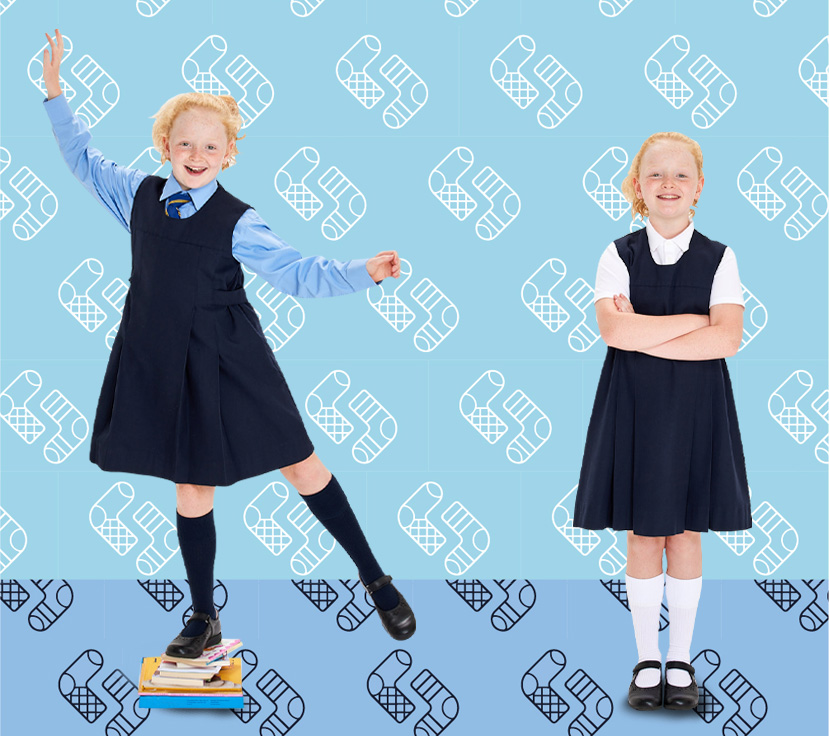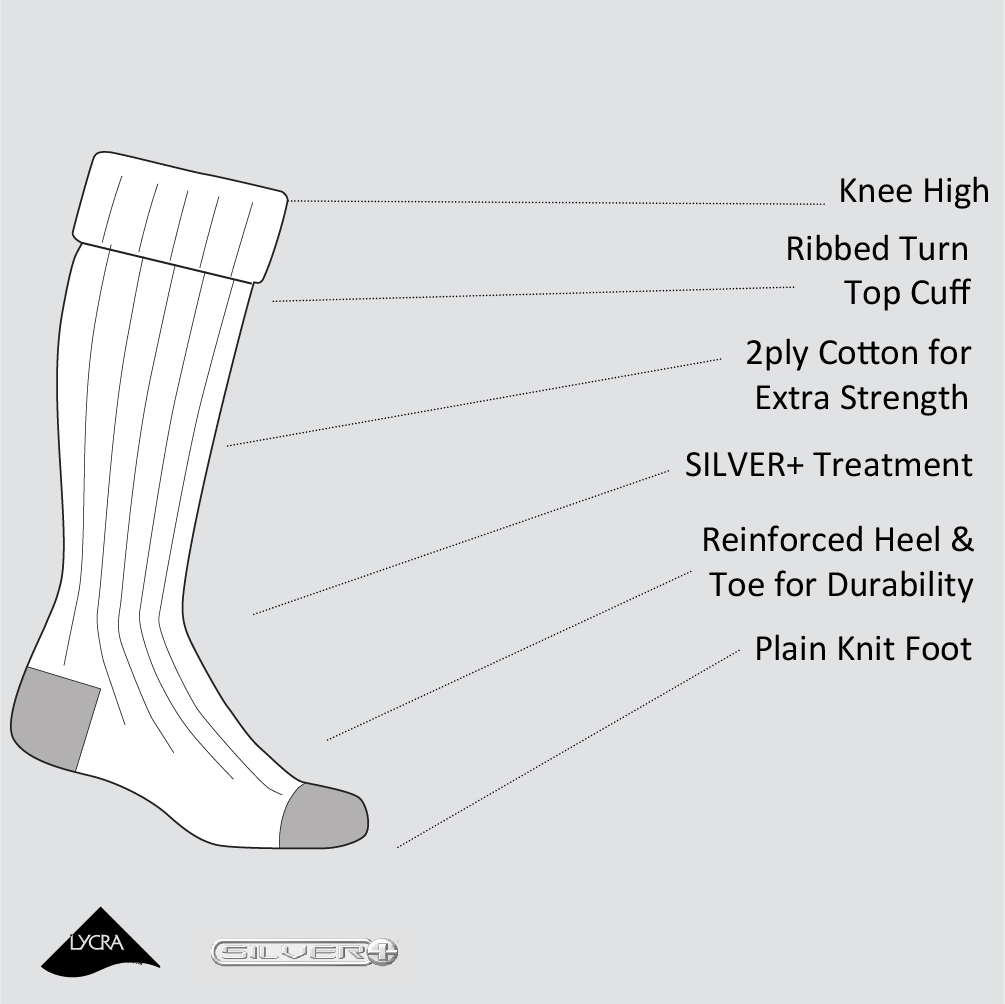 Sick of knee-length socks not staying up? Our Bearfoot Traditional School Style socks are the perfect blend of materials to keep the socks up and the feet aerated. Featuring a plain knit foot with ribbed legs - these socks are lightweight and fit perfectly into school shoes. A perfect addition to a classic school shirt.
The Tights that sit at the waist and keep you warm through the chilly season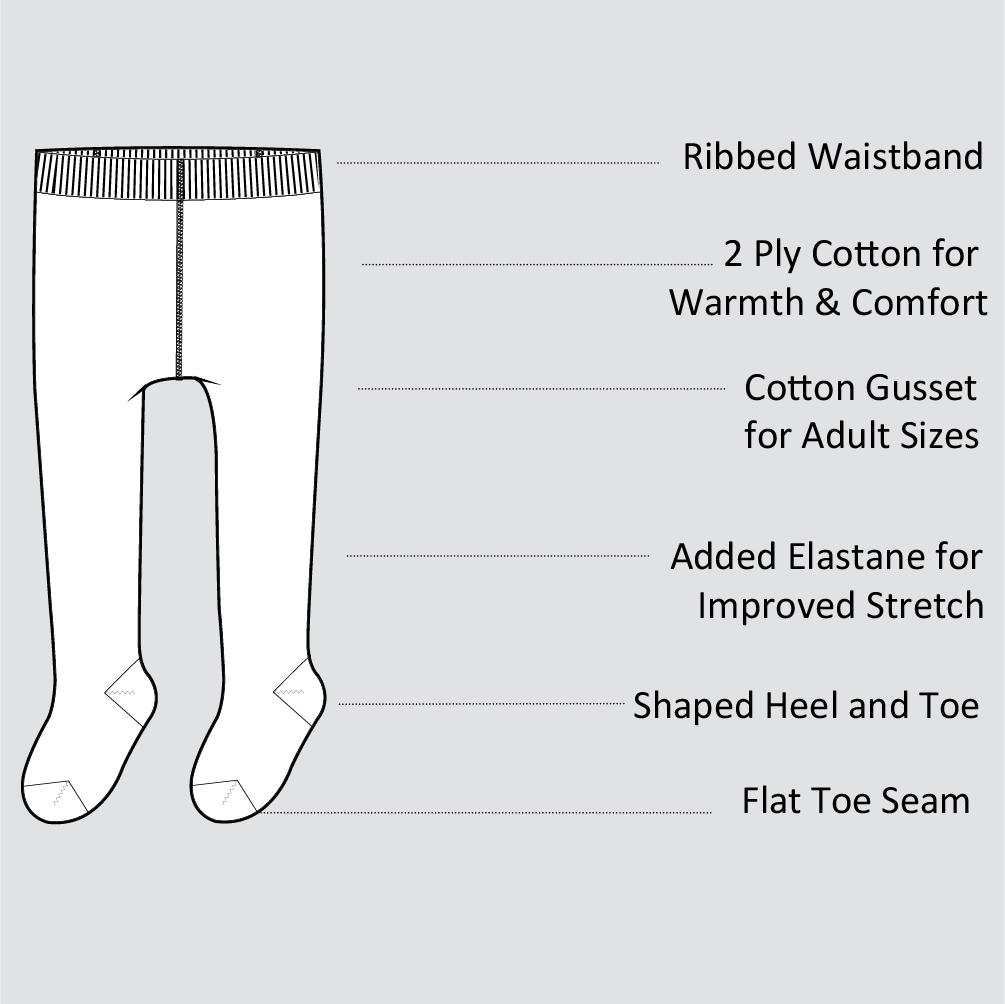 Girl's Cotton Opaque Tights 2 Pack
Ideal for the colder months, the cotton tights sit snugly on the waist and thanks to the ribbed waistband - they're much better at staying up. Whether you layer them under pants or school skirts - they're designed to shake off the winter blues and keep your child nice and cozy.
Girl's 70 Denier Opaque Tights 2 Pack
When the temperature drops, the Denier Opaque Tights are ideal for keeping the body warm. Made from polyester and nylon, they're long-lasting, stay up on the waist, and fit snugly around the legs without feeling 'too hot'.
If you're tired of seeing worn out, smelly socks, it's time to invest in high quality, durable Bearfoot styles.
Coming in a pack of 2 or 3, in a range of kids (and adult) sizes, in school-friendly colours and lengths, they're the only socks kids will need to step into school shoes wearing.
Explore our entire range of Bearfoot socks here.