Stay Extra Warm This Winter In These 5 Ultra-fluffy Home Socks
23rd Jun 2022
Winter is the perfect time to hibernate at home and enjoy the company of loved ones.
Whether you're into playing board games, cuddling up with a mug of hot chocolate and a good book or re-watching episodes of The Office - the chilly temperature outside brings a cozy atmosphere inside.
Foot health is important
But the frosty weather also makes us more prone to picking up a cold or flu. So it's important (on top of other lifestyle factors like eating healthy and being active) to stay warm to help protect yourself from any unwanted particles. Yes, that means wearing lots of warm layers, but this also applies to our feet.
Cold temperature can affect our blood circulation, so keeping your feet and toes nice and toasty is essential to looking after yourself. Wearing warmer and thicker socks is one way to promote healthy blood circulation and reduce any winter-related ailments.
Fluffy socks make winter more bearable
No one likes cold feet. That's why warming your feet up after a long day at work is the best way to keep cozy in winter. Besides, there's nothing more satisfying than getting comfortable, pulling on a cozy jumper and slipping your feet into a pair of fluffy socks to make you feel like you're living in your winter wonderland.
The fluffy socks are also a fantastic gift idea. And what's a better present than the gift of warm feet?
How to care for your fluffy socks
To keep your home socks nice and fluffy for as long as possible, they must be taken care of. They love a warm, gentle machine wash and perform best without ironing. Just leave them to line dry overnight, and viola - they'll be fresh come morning. It's important not to tumble dry fluffy socks to preserve the fluffiness.
The best fluffy socks for winter
Are you ready for the cold weather?
Lucky for you - we have the perfect collection of fluffy winter socks that you can wear through the colder months to keep your feet toasty.
The fluffy couch potato socks

The ultimate lazy sock is here. Coming in a convenient two-pack the stars and stripe design is made for ladies of leisure (and warmth). They're specifically designed to be worn at home and feature a non-slip sole that keeps your feet firmly on the floors without slipping around.
Perfect on their own or in slippers, this pair will keep you toasty all winter long. We even love having one pair of warm socks to parade around the house and the other to wear to bed. Once the peak of winter is over, the fluffy socks are the perfect transeasonal sock to keep wearing into Spring.
The home socks for blokes with cold feet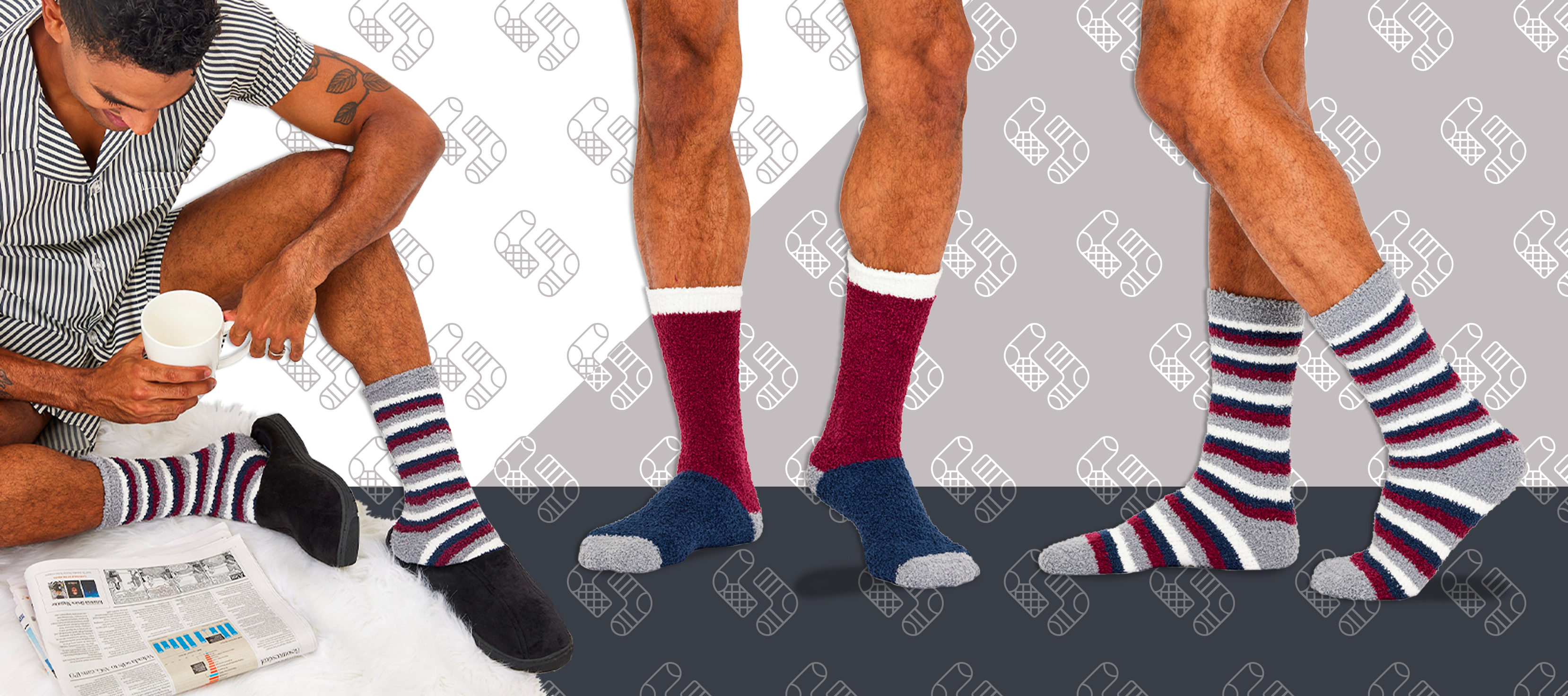 Who said boys don't get cold feet? Not us. But often, it's hard to find a home sock in a larger size for men (or women). That's why we've created a classic colour palette and stripe design that goes up to a size 11.
The socks have a non-slip grip, and if you wear boots to work, you can even slip on a pair to get you through those frosty mornings. And ladies, with Father's Day around the corner (on September 4th) - Dad might not say it, but he will secretly be thanking you for getting him a pair of socks to keep his feet warm and elevating his sock game.
Shop the men's multi-pack socks now.
The warmest socks for winter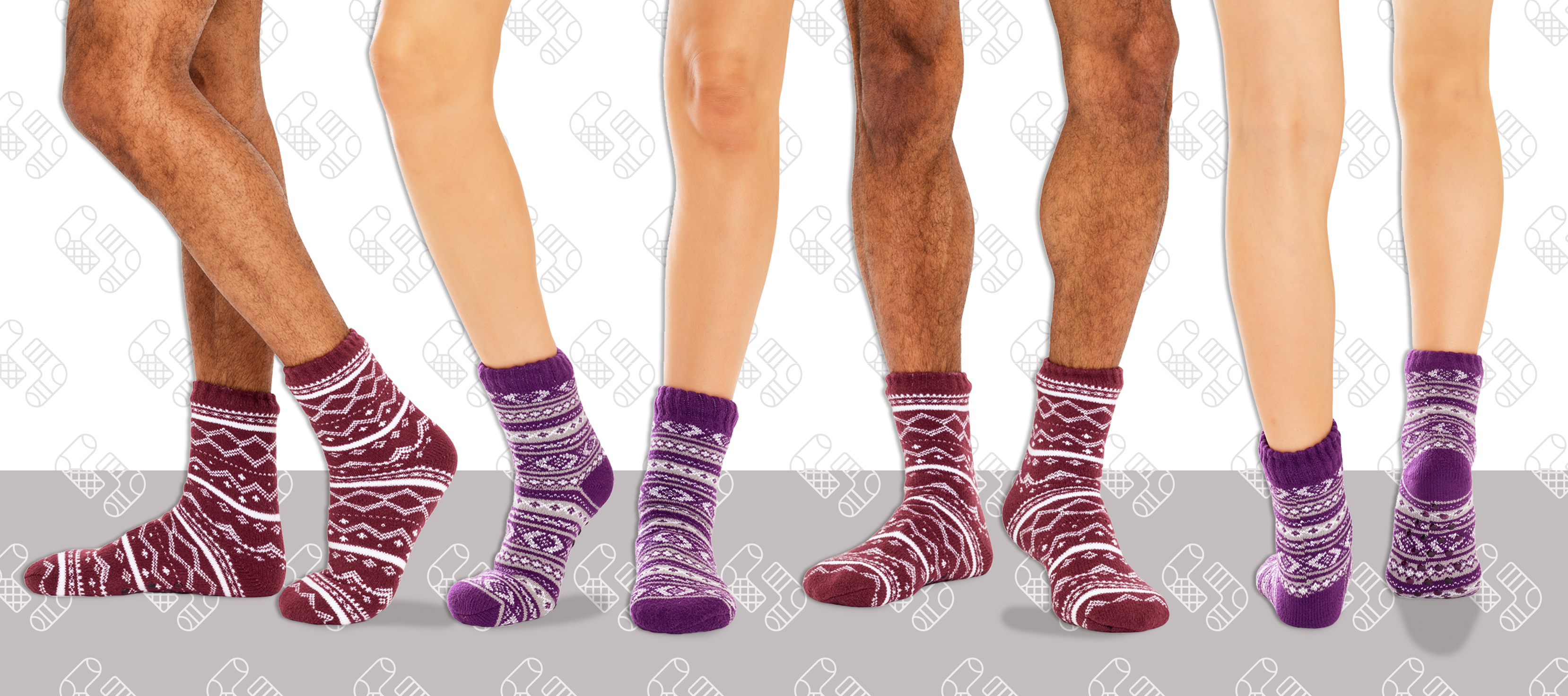 On the days when you need the extra warmth, the supersoft faux lined slipper socks will be your best friend. This winter sock is already on the best-sellers list, coming in a men's and women's style and a gorgeous decorative print. These are our warmest socks - so get in quick before they're all gone!
Did we mention that they're lined with faux sherpa? Sherpa is a warm material that looks like super fluffy sheep skin and is ultra snuggly. You may recognise it from slippers. Foot heaven. They feature a double-layer knit, and the outer layer is made from a super soft material, thick inner lining and non-slip soles, making them the thickest socks in our range and the perfect slipper replacement.
For more product details and to shop the men's style, click here, and for women's style, click here.
Are your feet itching for a pair of fluffy socks yet? Explore the full range of home socks here.
And remember to say hello to us over on our Instagram @socks.com.au.
googleb55b614345747205.html