9 Revolutionary Performance-Enhancing Socks For Your Feet
20th Jul 2023
Performance enhancing socks that are *specifically* designed to boost you when running? Add power to your hike? Stabilise you during snow sports? And energise you when walking the dog?
Yes, please!
Please welcome our new range of Overlander Performance Enhancing Socks.
Brought to you by Overlander, a high-quality brand with a rich, deep history of creating socks for adventure, outdoor activities and lifestyle.
Made specifically for action-packed activities using the most advanced knitting technologies, the Performance range is where function, performance and comfort collide.
Keep reading to discover the Overlander Advantage.
The Overlander Performance Range took years to engineer and perfect
Determined to craft a range of socks designed to live, play and train in, we leveraged the best of nature and science to bring you the Overlander Performance Enhancement range.
This new range of men's and women's socks took us 3 years of meticulous design and development to bring to life and features 9 different socks styles.
Each sock is crafted for a specific activity, including hiking, snow sports, running, cycling, trekking and more (listed below).
Discover why you need performance enhancing socks made using revolutionary temperature-controlling Merino Advantage material.
Why Merino Advantage is the ultimate performance enhancing material
Merino Advantage is a light, soft, temperature-controlling, and sweat-repelling material made from fine Australian merino wool fibres. It's easy to care for - fast drying, breathable and odour resistant.
Compared to traditional wool, Merino Wool doesn't have any cons; bulkiness, itchiness, heaviness, and taking forever to dry.
Plain wool socks can feel so scratchy on the feet, and the lower quality of the wool - the more uncomfortable it gets. And, unfortunately, no amount of fabric softener will save them.
Merino Advantage is the perfect solution. It is built with endurance in mind.
The Overlander Range of 9 Performance Enhancing Socks
1. Cycle Socks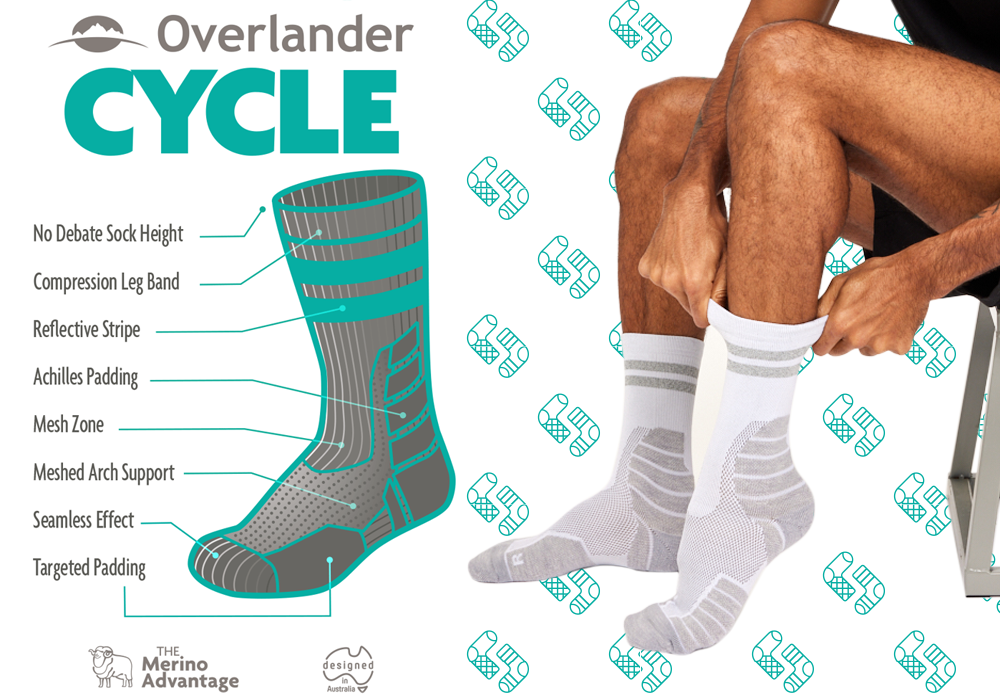 Keep your feet protected and your legs turning in these specially designed Cycling Socks. Made using uniquely developed Merino Advantage, these Cycling Socks combine the best of nature and technology.
Here's why you need a pair of Cycling Socks:
Carefully placed mesh zone and meshed arch support so feet stay breathing and aerated
Targeted padding on the heel and sole and seamless toe means extra thickness where cyclists need it most
Compression leg band and achilles padding promotes even blood flow and circulation
Achilles padding at the back of the ankle to protect from any blows
Reflective stripe for extra safety when cycling at night
Coming in 2 classic colours - black or white - these merino wool socks are a must-have for professional (and amateur) cyclists.
Shop here.
2. Lifestyle Socks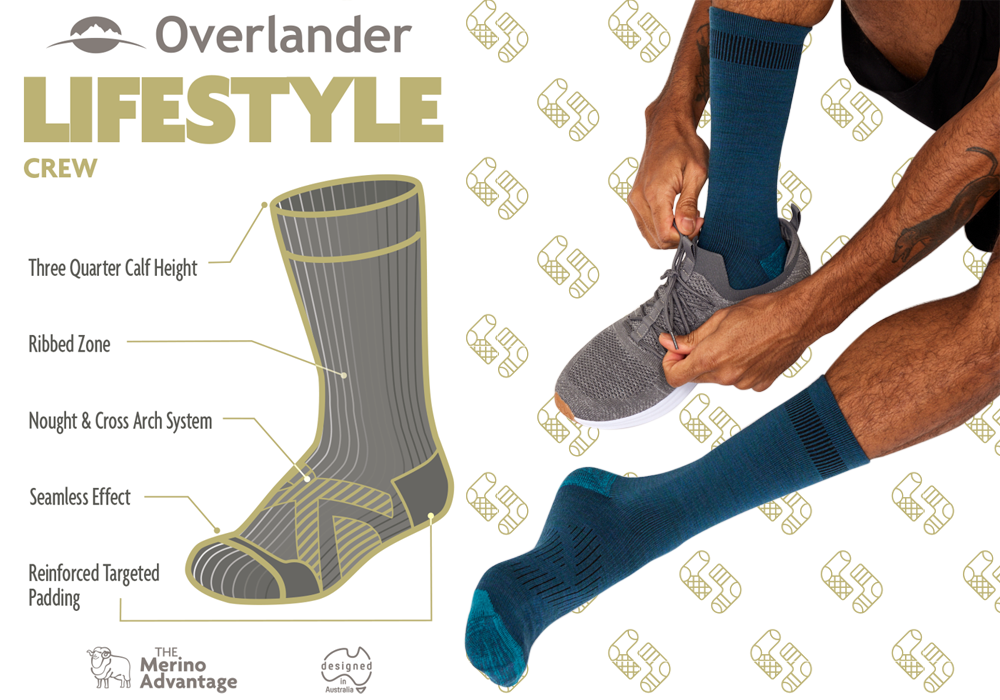 These are the must-have socks your feet will want to live in all year round. The Lifestyle Socks are perfect for walking, work and in slippers.
Why you'll love the Lifestyle Socks:
Crew length to suit your favourite sneakers
Reinforced targeted padding protects the heel and toes from discomfort
Nought & Cross Arch System on top of the foot to enhance mobility and movement
The ribbed body gives them an even and cozy feel
Coming in a range of classic colours like black, grey marle, maroon, teal and blue marle, these merino wool performance enhancing socks will keep your feet (and ankles) feeling supported all day long.
Shop here.
3. No-show Lifestyle Socks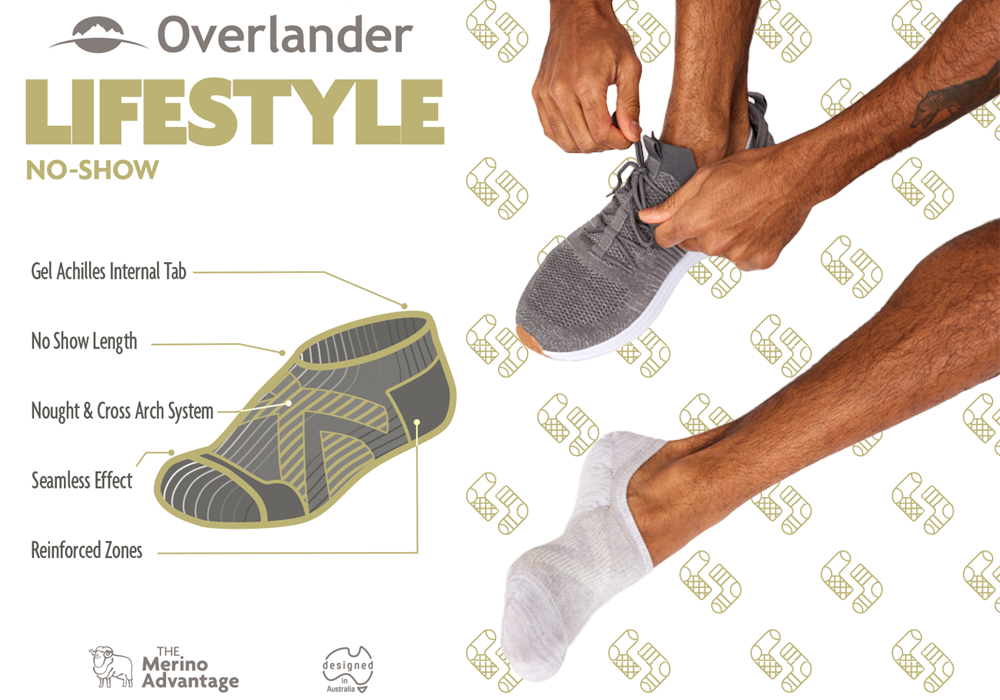 If you're looking for an everyday sock that's comfortable, durable, breathable *and* pairs perfectly under sneakers, the No-show Lifestyle Socks are a must-have. Like the Lifestyle crew-length socks, this style has the same seamless and cushioned features, just shorter.
The No-show style feature:
Cushioned Gel Achilles tab that sits on the back of the ankle to stop the socks from falling and any rubbing in such a sensitive spot
Nought & Cross Arch System across the main area of the foot promotes healthy blood flow with light compression
We love how versatile Lifestyle Socks are, and thanks to the Merino Advantage insulation, they'll keep feet warm in Winter and cool in Summer. Grab a pair in a black or light grey option.
Shop here.
4. Athleisure Socks

With their sporty look and super comfortable fit, the Athleisure Socks are designed to fit your active lifestyle. Coming in a Quarter Calf Height with a snug-fit ribbed zone throughout the length of the leg, they also feature:
An air-wicking mesh zone to keep feet fresh and let sweat escape
No toe seam to reduce the chances of blisters
Extra padding on the heel and toe for ultimate comfort
Convenient ribbed zone to ensure movement is not restricted
It will help keep feet cozy in the cold and fresh in the sun thanks to the insulating nature of the merino wool material composition
Throw on a pair of Overlander Athleisure Socks and feel the extra spring in your step. These must-have tough socks come in a grey or black option.
Shop here.
5. Snow Socks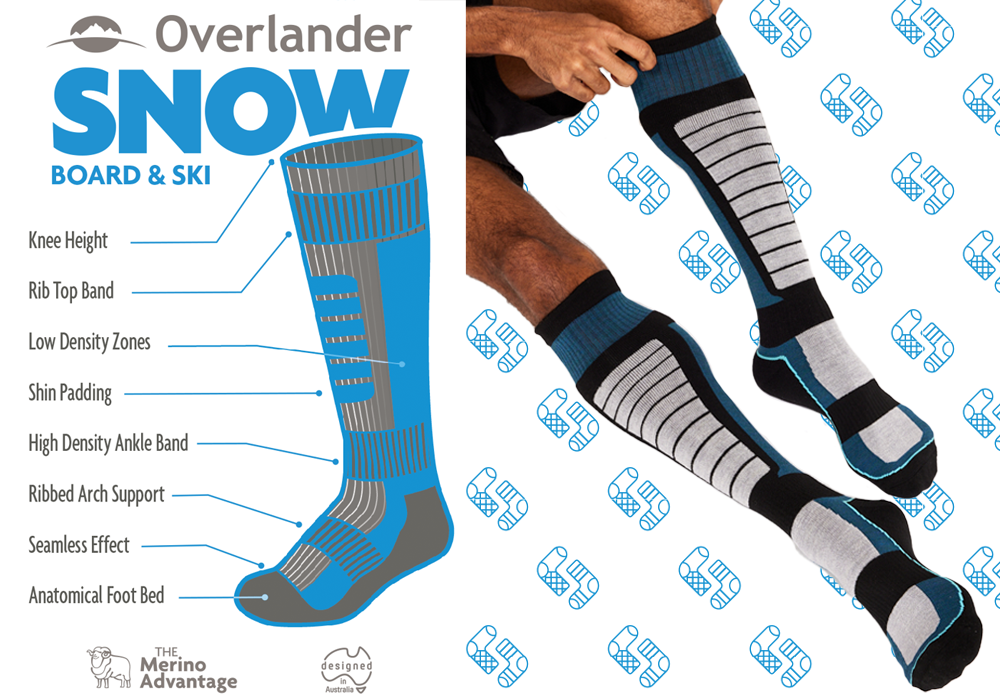 If you've got a snowboarding and skiing trip planned, remember to add a pair (or two) of Overlander Snow Socks to your bag. Merino Advantage is the ultimate frost-friendly material because of its warming and insulating properties.
What makes them *the* toughest performance socks for skiing and snowboarding?
They stay up thanks to the knee height and rib top band
Feature shin padding at the front to minimise the impact on fall
Low density zones do not restrict the feet movement
Ribbed arch support promotes healthy blood circulation
Anatomically designed foot bed to enhance your performance
High density ankle band provides stability to ankles when skiing and snowboarding
The thicker socks will keep you cozier for longer, and the wool socks are not 'too bulky' to wear under your snow gear. They come in a maroon and blue marle colour and include some fun geometric patterns to keep them exciting and funky.
Shop here.
6. Running Socks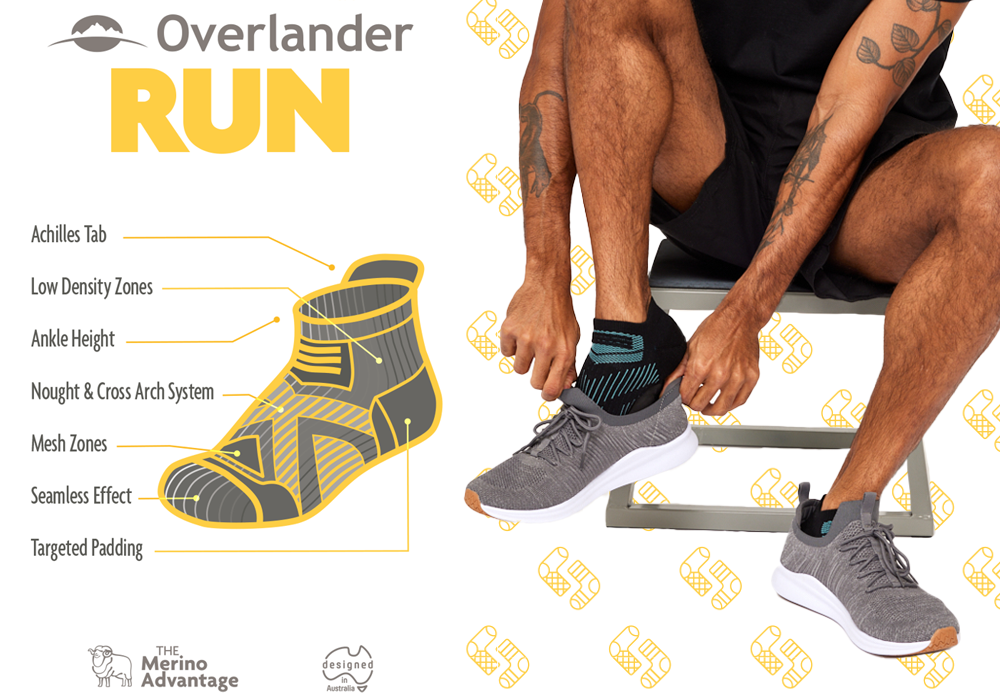 The Overlander Running Socks are what active dreams are made of. With their insulating properties, odour resistance and moisture-wicking abilities, they're designed specifically with sports in mind.
You'll love this ergonomic sock because:
They don't rub, thanks to the seamless finish
Soften the impact when running with targeted padding on the foot
Feet stay fresh with a specially placed mesh zone
Nought & crossed arch system promotes healthy blood flow without being restrictive
No discomfort around the ankle thanks to the achilles tab
This pair of Running Socks have been tested for durability, comfort and long-distance running. Pick up a pair in a modern black or grey style.
Shop here.
7. Health Socks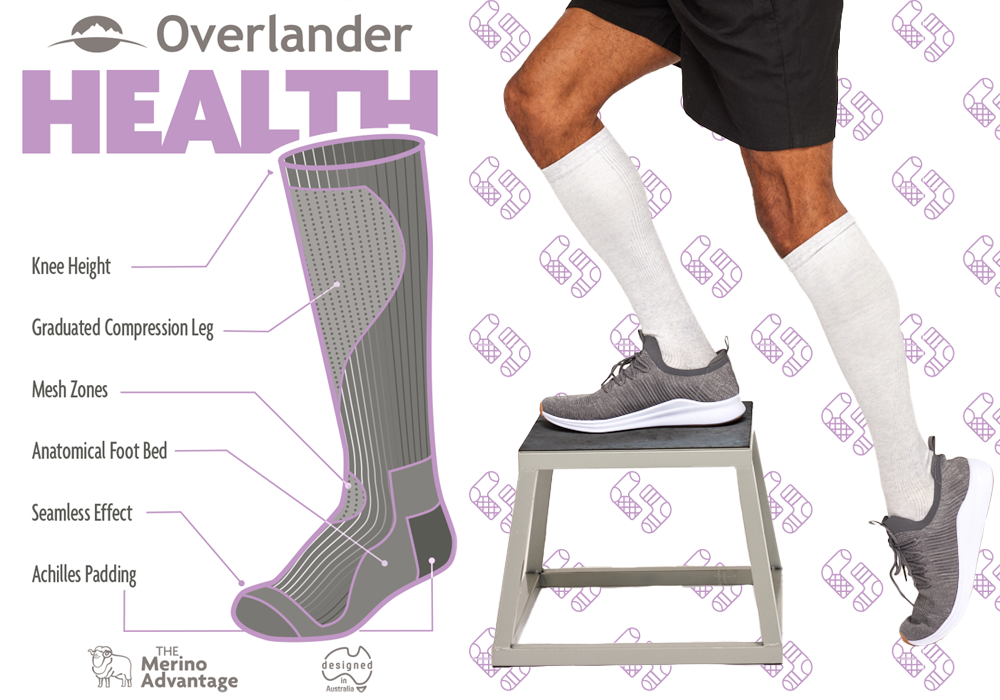 Rejuvenate and refresh tired, aching feet in a pair of Overlander performance enhancing Health Socks. Designed to promote blood flow, they speed up muscle recovery and reduce the risk of injury.
And here's how:
Graduated compression legs increase blood flow to the area
Achilles padding to absorb pressure on the foot
Mesh zones allow feet to breathe
The seamless design reduces the chance of blisters
The knee-length fit can even be worn under pants for ultimate recovery and comfort on the go. Find them in a beige, grey and black colour option.
Shop here.
8. Trekking Socks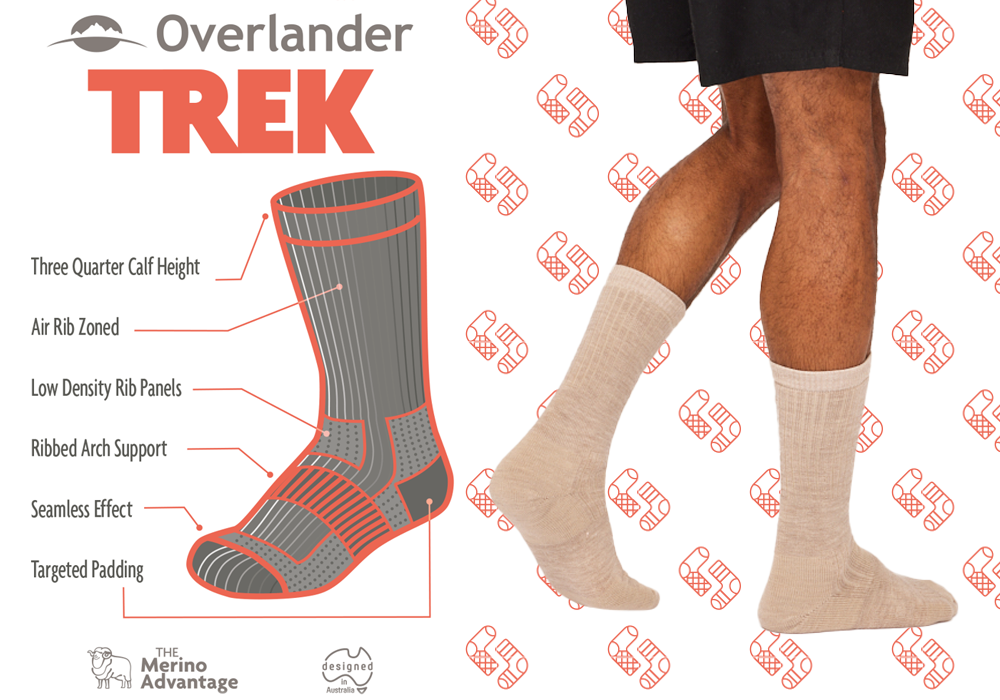 Having a sturdy pair of Trekking Socks is a must when you're out in the wilderness, exploring the outdoors. Our new Overlander Trekking Socks are made from premium Merino Advantage to give feet the most comfortable experience.
What makes our Trekking Socks unique?
Three-quarter calf height to protect from dirt and dust
Air rib zone so feet can breathe and wick moisture
Ribbed arch support to keep feet stabilised on uneven roads
Reduce the risk of blisters thanks to the seamless design
Targeted padding for extra cushioning and comfort on the toes and heel
Low density rib panels for ease of movement
These lightweight socks are constructed for both warm and cold-weather trekking. Pick up a pair before your next outdoor adventure.
Shop here.
9. Hiking Socks
Everyone knows that a reliable pair of socks is essential for extreme adventure. Our new Overlander Hiking socks are specifically designed to enhance your outdoor experiences.
Here's why you need a pair of Hiking Socks:
Protect feet from dust and small rocks thanks to the three-quarter calf height
Boost you with the extra compression around the ankle
Engineered to withstand a high impact with reinforced targeted padding around the heel and sole
Keep feet feeling fresh on long Hikes with low density rib panels that let your feet breathe
These performance enhancing socks will provide comfort, protection and stability to the most extreme hikes.
Shop here.
Indulge and shop the performance enhancing Overlander range here.