Best Grip Socks For 2023 - Take Your Yoga And Pilates To The Next Level
6th Feb 2023
Do you want to know the ultimate game changer to your yoga, pilates and stretching routine?
Grip socks!
These sticky sock sensations are going to revolutionise the way you train.
How?
Whether you're into yoga, pilates, barre, ballet, gym, dance or martial arts, our new Benefeet Yoga and Pilates sock range catapults you and your workouts to the next level by reducing the slip factor.
Designed for improved athletic performance and reducing the risk of slipping
Think of the non-slip grip socks as sticky socks. They're made from cotton and blended materials and have revolutionary small grip panels on the soles of the feet that stop you from skidding off your yoga mat.
Basically, it's the glue between your feet and the studio floor.
So whether you're sick of your feet constantly slipping during a down-dog or because you want to keep them warm, our grippy socks reduce the risk of slipping and improve your performance - all at the same time.
Let us introduce you to our three styles of grip socks and explain why they're about to become an essential item in your gym bag.
Pilates No-Show Non-Slip Socks
Our cotton pilates no-show style is a great spin on an old classic. Perfect for the home and studio, the pilates socks have non-slip grip panels on the sole to ensure feet are firmly on the mat during class.
Made from breathable cotton material, feet will stay cool when things get a little sweaty during your workout. The cotton blend fabric will let the moisture pass through, keeping you more relaxed and your feet fresher.
Other features we love are:
The performance mesh stimulates the breathability of the socks.
The compression arch hugs the middle of your foot for extra support to encourage blood circulation.
The no-show winged heel design fits perfectly under trainers on your walk to the studio.
A 'Y' shaped heel pocket for a contoured fit mimics the foot's natural line and also helps reduce any slipping.
The Benefeet Pilates Socks are perfect for both home and studio and come in a convenient 5-pack in two colourways. The first is a mix of black, charcoal, mint, grey marle and baby pink, and the second comes with a black, grey marle, baby pink, dusty pink and white pair.
Cotton Close Toe Yoga Socks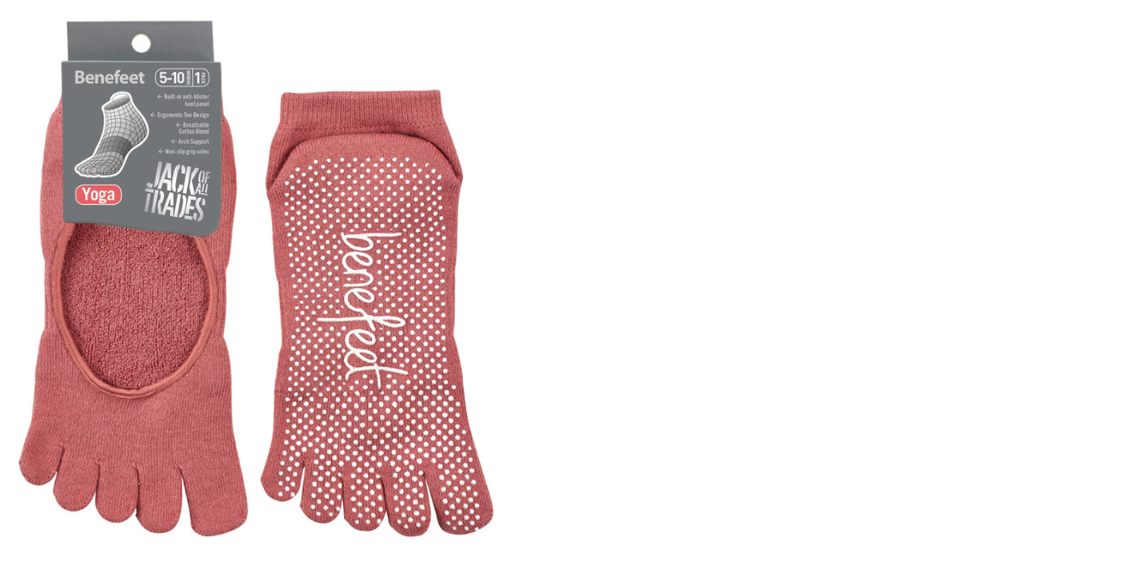 This toe sock style is ideal for slippery yoga studio floors and keeping your toes toasty. Think of them like a non-slip glove for your feet - with a pocket for every toe; these socks are the perfect blend of style and comfort.
What we love the most about the Closed Toe Yoga Socks is that they allow your toes to be free and function individually. Complete all your movements confidently as you spread your toes on the studio floor and forget about slipping.
Other features we love are:
The built-in anti-blister heel panel reduces any extra friction on areas of the foot that need the additional support the most.
The arch support keeps your foot protected and in shape and promotes even blood flow.
The Better Cotton Initiative (BCI) cotton blend material allows your sweaty feet to breathe and stay fresh.
So whether you've signed up for a yoga class or pilates session, the Benefeet Cotton Close Toe Yoga socks are designed with movement in mind.
Recycled Nylon Yoga Open Toe Socks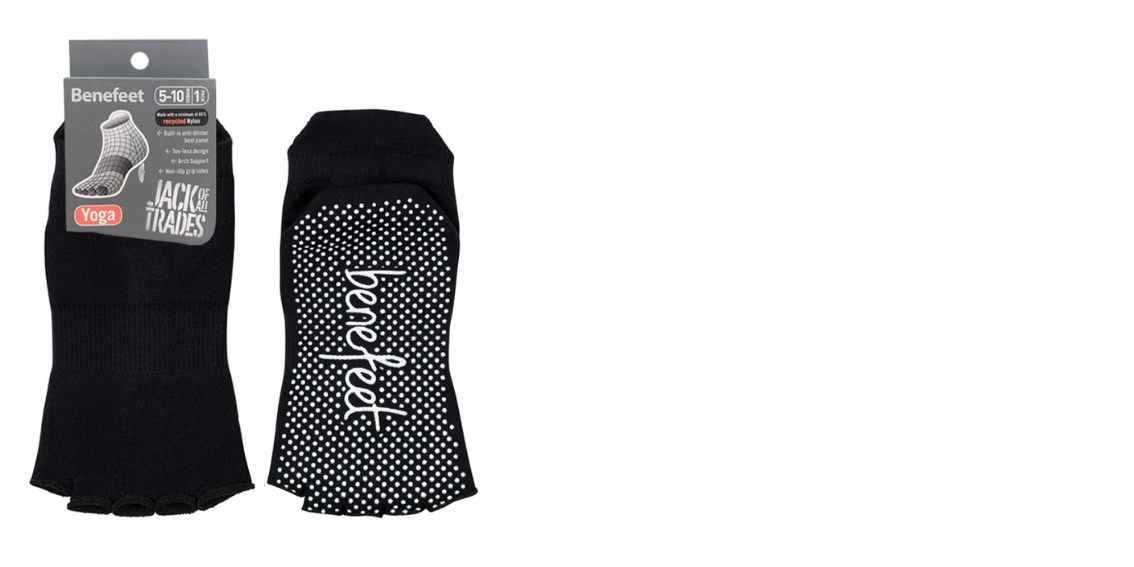 The Yoga Open Toe style is similar to the toe sock style but allows your toes to peek out and get friendly with the studio floor. If the temperamental weather makes you confused about what to wear or you like your foot covered but toes touching the floor, the open toe socks are a perfect style.
Made from at least 65% recycled nylon - the yoga socks are consciously created to reduce the use of 'new' materials.
Other features we love are:
The non-slip grip soles cover the entire foot, including the heel, sole and toe area.
The socks are ergonomically designed to fit like a glove (with toe holes).
The built-in anti-blister heel panel provides extra protection when your foot needs it the most.
The arch support helps support your foot and encourages blood circulation.
Benefeet Recycled Nylon Yoga socks are a must-have for any gym-goer and can also be worn casually under shoes. The stylish design comes in a classic black colour. Use them for yoga, pilates, bare, ballet, gym, dance, martial arts and more - and let your toes be free!
Men's Non-Slip Studio Socks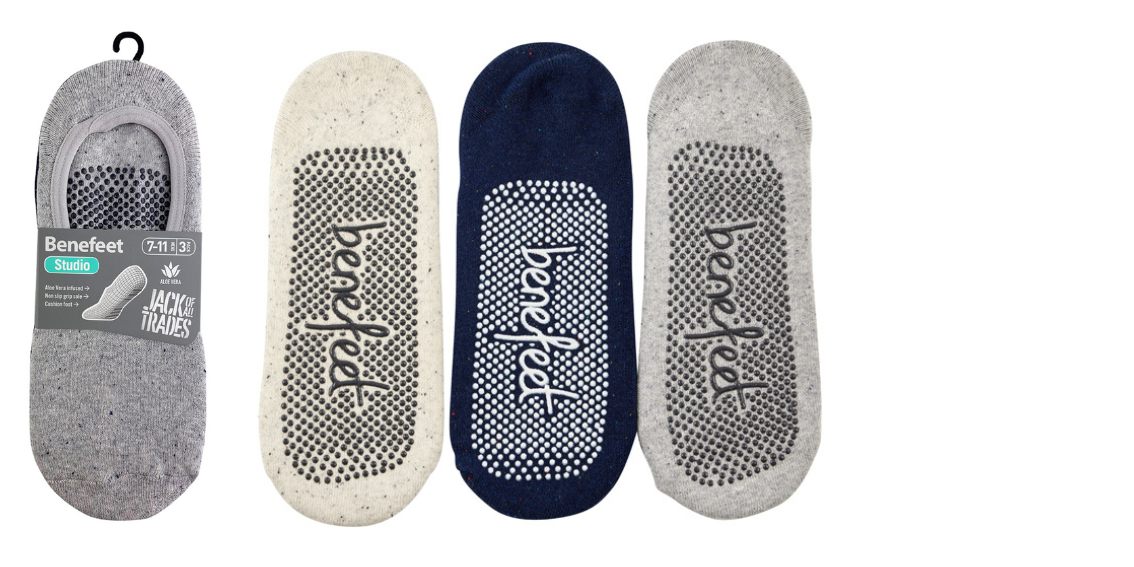 Don't worry, boys; we didn't forget about you. The Men's Studio Socks are created for activities both inside and outside the shoe. You can even wear the non-slip grip socks under soccer and football boots to reduce slippage, thanks to how snug they fit.
Other features we love are:
The high percentage of Better Cotton Initiative (BCI) cotton blend fabric gives a refreshing, natural feel and keeps feet dry.
The socks are treated with Aloe Vera to help moisturise, calm and rejuvenate the feet.
Entirely lined in terry lining makes the socks feel extra sock and comfortable.
The flat toe seam reduces the chances of rubbing or chaffing on your toes.
Thanks to their ergonomic design, the Benefeet Studio socks (which come in a convenient pack of 3) are designed to sit under sports trainers and make a bold appearance on the slippery gym floor. Each pack contains a pair of white marble, black and grey marle socks.
P.S Another thing we're very proud of is that our packaging is consciously made. The shipping carton and polybag used to get the non-slip socks to your door come from 100% recycled materials.
We're here to tell you that a slip-free workout with our new Benefeet Yoga and Pilates Socks is 100% possible!
So if you're finding your feet still slip after they get a little bit sweaty from working out, our new range of non-slip socks is your calling sign.
Have you tried out socks with grips before?
Let us know what you think of them over on Instagram.